آخر الاخبار
News and Events
---

Award-winning item torque control screwdriver [torque control adopter for electrical work] Business Owner ANEX MFG.CORP. Category Working tools and instruments Company ANEX MFG.CORPORATION (Japan) Award Number 20G100547 Outline of Good Design Award winners Outline of Good Design Award winners 2020 Outline* The shown information is the one as of the awarded date and might has been changed. Outline There is an optimum strength for tightening the screw, and if it is too weak or too strong, the screw will become loose easily. A torque driver keeps different tightening force constant for each person. Generally, the torque driver has an integrated handle, but since this product is a split type, it can be used with your favorite handle and also with a low-speed electric screwdriver.   Producer KOICHI ANEX, Representative Director, ANEX Manufacturing Co., Ltd.   Director ATSUSHI ANEX, Managing Director, ANEX Manufacturing Co., Ltd.   Designer YOJI NOZAKI, Planning and Development Department, ANEX Manufacturing Co., Ltd.

---

---

Chienfu Sloky was honored to be posted on businesstoday magazine. We like to start our digitalization from 2020 and turn into a brand new page on 2021. Not only supporting ERP, we will also audit and apply BI including HRM/KM/CRM and etc.

---

---

Richard from Anko and Leo from Sloky have known each for more than a decade and Richard has been very popular and famous among all of our friends. Since the spread of COVID-19, he has also become an icon of "Team Taiwan of second generation" because he assembled a group of six friends to help mass produce quick-test machine of COVID-19.   On 13th of May, suddenly I received a call from Richard asking "Do you want to be a part of Team Taiwan?" because we need some help for fastening with torque screwdriver.   "it's a great pleasure for Sloky and thank you for this opportunity" I replied.   We customized one piece of 0.1/0.2/0.3/0.4/0.5/1.5/1.8Nm for Anko and meanwhile they already have our TSD-01 with standard spec of 0.6/0.9/1.2/1.4/2.0/3.0nm.   They have tested all of them and concluded for needs of 0.1/0.2/0.3/0.4/0.5/0.6/1.2/1.5/1.8Nm torque screwdrivers to fasten each different screw of each tester for the accuracy of the testing result.   Furthermore, we also insist providing Sloky handles and Hex bits as a full Sloky Team Taiwan Kit and we are very honored to do so.   Sloky and Chienfu are very proud to be a part of Team Taiwan of second generation and able to contribute our expertise; even it's a not much we can help.   Also shout out to Richard from Anko for your good heart to help the world and also include Sloky to contribute.   Below link please see full story from Business Weekly:

---

---

Announce Premier Torx as authorized distributor of Sloky in Brazil since 2018

---

---

Mechanical Components & Materials Technology Expo [M-Tech] is an exhibition gathering all kinds of mechanical parts such as bearings, fasteners, mechanical springs, metal and plastic processing technology. M-Tech attracts a significant number of professionals every year from design, development, manufacturing, production engineering, purchasing and quality control departments, to conduct lively business discussions with exhibitors.   Exhibit Profile   Motion Technology Fair Bearings|Changers/Reducers|Gears, Belts|Chains|Lubricant|etc.   Motor Fair Motors|Drivers|Controllers|etc.   Compressor/Fluid Power Transmission Fair Compressor|Hydraulics Equipment|Water Hydraulics Equipment|Seals|etc.   Tube Components Fair Pipes|Tubes|Joints|Valves|etc.   Mechanical Parts & Related Products Fair Hinges|Levers|Stays|Casters|and Mechanical Parts & Related Products   Fasteners & Fastening Technology Fair Bolts|Nuts|Washers|Rivets|etc.     Mechanical Springs Fair Variety Springs|Spring Forming Machines|Forming/Processing Technology|Spring Tester|etc.   Surface Treatment & Modification Fair Plating|Surface Coating|and Surface Treatment & Modification Technology     Processing Technology & Materials Fair Machining/Cutting|Pressing|Forging|Casting | Die-Casting|Fabrication Technology|etc.   Ultraprecision Processing/Microfabrication Fair Fine/Ultraprecision Cutting|Fine/Ultraprecision Laser Processing|Fine/Ultraprecision Abrasive Machining|Ultraprecision Pressing Microfabrication of Prototypes|etc.   Large/Thick Parts Machining Fair Large Parts Cutting|Large Plate Processing|Large Parts Forging Technology|Thick Parts Processing|Large/Thick Parts Pressing|Large Parts Plastic Processing|Large Parts Casting|etc.   Lightweight Technology Fair Lightweight Materials|Processing|Components|etc.   Deburring & Surface Finishing Fair Blasting Technologies|Deburring & Surface Finishing Technologies/Equipment|Barrel Finishing   Mechanical Parts Cleaning Fair Washers|Cleaners|Driers|Cleaning Outsourcing Services|etc.   Processing Machines & Machine Tools Fair Hand Tools|Diamond/CBN Tools|Spindles|End Mills Machine Tools|Injection Molding Machines|Metal/Resin Processing Machines|etc.   M-Tech Tokyo is Japan's largest trade show for mechanical components and materials technology. It attracts companies from all over the world and a wide range of industries that have already entered the Japanese market or like to do so. Among visitors are technical experts from divisions like design engineering, production engineering, quality control, purchasing, research and others. M-Tech Tokyo is held in conjunction with Design Engineering & Manufacturing Solutions Expo.

---

---

Chienfu Sloky was honored to be interviewed by TV news channel SET in Taiwan. It's a really good chance to tell our story about how Sloky got started and also a story of how Jeff and Leo worked together in Chienfu. We wish funder of Chienfu, Adam, would be proud of Sloky and believe we will take Chienfu to next level.   This is how we write new chapter of Chienfu with Sloky inprint.

---

---

NEW SMART TECHNOLOGIES METALEX 2019 will pave the way to sustainable successes in the imminent 4.0 era for the region's metalworking industry. Under the theme of "New Smart Technologies," featuring Smart Wire & Tube Technologies, Smart Materials, and Smart Sensor Technologies, the show will open up new horizons in metalworking excellence and growth through over 4,800 items of new machine tools, metalworking solutions, sheet metal forming innovations, and many other metalworking technologies by 4,000 brands from 50 countries including national pavilions plus "German Pavilion" as well as many other exciting smart new features, contents, and business opportunities that will take your business to the next level. METALEX will be your smart gateway that will enable you to tap into the demanding ASEAN market in the most efficient and effective way.   Offer NEW SMART TECHNOLOGIES to the Right Market Get in touch with the largest audience of your machine tools and metalworking technologies at METALEX 2019. With over three decades of reputation as a well-established technology platform that industrialists from the world over come to visit, exhibiting with us not only gives you the chance to connect with 100,000 manufacturing industrialists who could become your future business partners, but a chance to show off your best innovations that could set the trend for modern metalworking and manufacturing. Strengthen your brand perception. Multiply your trade opportunities with maximum return on investment through our matchmaking service. METALEX is a tried-and-true most effective platform to debut your products and be seen among world class technology providers!   Get in touch with the largest audience of your machine tools and metalworking technologies at "METALEX 2019" – the Metalworking Metropolis of ASEAN. With over three decades of reputation as a well-established technology platform that industrialists from the world over come to visit, exhibiting with us not only gives you the chance to connect with 100,000 manufacturing industrialists who could become your future business partners, but a chance to show off your best innovations that could set the trend for modern metalworking and manufacturing. Strengthen your brand perception. Multiply your trade opportunities with maximum return on investment through our matchmaking service. METALEX is a tried-and-true most effective platform to debut your products and be seen among world class technology providers.

---

---

Product Intro: Spring made of chrome steel material for car.The design of the mechanism achieves the purpose of torque segmentation by precision calculation of the coefficient of spring compression.1.Visually determine the torque value during the locking process,It cover ring surface is treated as bright black and the number is marked in white.2.High degree of customization,Customized service with spring material application and compression technology,flexible setting of 6~10 torque values,Don't need to convert sleeve.3.Miniature design to achieve torque value and lightweight-64g ± 5g,and product size (D) 17mm × (L) 69.9mm. Hand handling operation without burden and storage does not take up space.4.Change BIT more quickly.The kit group is suitable for different application areas, with multiple changes, interchangeability, and convenience efficiency requirements.

---

---

Product Intro: Precision medical anti-reversible torque limiting wrench, the vibration of breakaway torque is extremely small and torque transmitted precisely without fail, it will bring great benefit to the removal and attachment of bone plates and screws. Especially, 1.Physics of friction is applied to the torque wrench to realize the purpose of torque limiting, also it is a reusable surgical instrument which can be used over 5000 times. 2. The torque is preset, as the demand torque is reached, there is a click sound and the vibration is extremely small. 3. The main component – shaft is designed to have the adjustable dimension to calibrate the torque easily. 4. The connected component is a pair of ratchet which is operated in only one direction preventing improper use. 5. Lightweight design 650g±50g, with the small size (D)15.7mm×(L)68mm. 5 major benefits and the reasonable price make the Precision medical irreversible torque limiting wrench become the first choice of medical instruments.

---

---

錢線人物/莊惟捷「鎖下去」 痛點變生意   2019-10-13 13:42聯合晚報 記者戴慧瑀/台北報導

---

---

Mechanical Components & Materials Technology Expo [M-Tech] is an exhibition gathering all kinds of mechanical parts such as bearings, fasteners, mechanical springs, metal and plastic processing technology. M-Tech attracts a significant number of professionals every year from design, development, manufacturing, production engineering, purchasing and quality control departments, to conduct lively business discussions with exhibitors.

---

---

WESTEC 2019, the leading California manufacturing trade show   At WESTEC, you will connect with thousands of leading manufacturers in critical industries such as aerospace, medical, industrial machinery and consumer goods. Our new location, Long Beach, is a gateway to global ports and a vibrant area for machinery. Compare the newest technologies side-by-side while meeting face-to-face with the experts who developed them. Learn more about the business aspects of manufacturing in three days than you typically do in three months at dozens of complimentary educational sessions geared toward industry executives, including interactive Knowledge Bars, topical keynote addresses and informative new-product demonstrations.Plus, immerse yourself in advanced technologies such as additive manufacturing at our Smart Manufacturing Hub, featuring leading technology providers. Among the United States' fastest-growing manufacturing regions, the West Coast is a hotbed of opportunity for companies with new products and leading-edge ideas, and a center of concentrated manufacturing intelligence. The numbers bear it out: California has more than 36,000 manufacturing firms employing 1.3 million people, and exported $142.4 billion in manufactured goods in 2016.1 The West Coast's premier manufacturing event, WESTEC has an enhanced exhibit area and more of the exhibitors you want to see — giving you the ideal opportunity to find solutions to your manufacturing challenges. A showcase for global technologies and exhibitors, WESTEC 2019 ultimately provides you with the newest ideas to improve your operations and increase your profits.WESTEC, the leading California manufacturing trade show, has been providing solutions to manufacturing challenges for 55 years.Attendees come from a variety of industries including aerospace, medical, industrial machinery, automotive, fabricated metal, and more.Exhibitors have the opportunity to meet face-to-face with over10,000 attendees, of which 77% have a role in purchasing decisions with 30% having manufacturing equipment budgets of more than $200,000.   At WESTEC you will:   See the latest machinery, metrology, design, digital, 3D printing and engineering expertise Visit over 400 leading manufacturing exhibitors   Top 5 reasons to attend WESTEC 2019 Miles of machinery. Explore more equipment than ever, all of it powered by West Coast industry leaders. Enlightening education. Attend complimentary sessions covering hot industry topics. Smart solutions. Connect with industry experts to solve your manufacturing challenges. Inspirational interactions. Maximize your manufacturing moxie with WESTEC's industry-leading exhibitors and attendees. Long Beach. Connect with the right people in the right location at WESTEC.

---

---

EMO Hannover 2019 presents itself to the world ... "Meet the world at EMO" is one of the principal reasons for taking part in the world's leading trade fair for metalworking. This applies to exhibitors and visitors alike. The trade fair team provided an overview of the highlights of the upcoming trade fair to an international audience on its EMO World Tour. In 43 press conferences, held in almost every country with a significant level of industrial production and thus with a demand for production technology, they provided information to specialist and business journalists, exhibitors and potential exhibitors, representatives of associations and other propagators about EMO and its special features in the respective national language. In the EMO Preview, around 40 exhibitors also offered a foretaste of the most exciting innovations they are expecting to present to trade visitors in September. The companies highlighted their products and services in 120-second elevator pitches.

---

---

The Largest and the Most Professional Industrial Automation Show in Central Taiwan! Area by specialty: ■Hardware & Accessory Equipment Area ■Cutting Tools Area ■Machine Tools Area ■Inspecting, Measuring & Testing Equipment Area ■Industrial Machinery Area      Industial Automation is one of important machinery export trade in Taiwan. The geographical advantages of many industrial parks and closely connected industrial supply chains have brought infinite business opportunities to the central area. Combined with active promotion of industrial transformation and upgrade and establishment of precise machinery park by the government, the central area has moved toward a new development of integrated traditional and high-tech manufacturing industry.   Having held more than 10 machinery industry shows, Economic Daily News responds to industrial development and grasps trends of global markets. It has become the highlight of procurement and the show for domestic and international manufacturers.   Economic Daily News plays a role of professional reporter to take the full responsibility of the media and provide a comprehensive and abundant exhibitive platform for industries relating to plastics and rubber and manufacturing facility."Taichung Industrial Automation Exhibiton" is going to be grandly held from June 8 (Friday) to June 12 (Tuesday) at Greater Taichung International Expo Center. The show will help Taiwanese industries relating to plastics and rubber and manufacturing facility make their premium technologies seen by all communities in order to improve the product competitiveness, promote the industrial exchanges, and enter global markets.

---

---

Busan International Machinery Technology Fair

---

---

We are very thankful and honored to be displayed by Taiwan Excellence and this is a great opportunity to promote our products and our brand. To see our Sloky procuct in such big posters really moves our team and want to say "thank you so much" to Taiwan Excellence.   Introduction to the Taiwan Excellence Awards The Taiwan Excellence Awards were established by the Ministry of Economic Affairs in 1993. Every year, eligible candidates are subjected to a rigorous and stringent selection system that covers four major aspects of "R&D", "Design", "Quality" and "Marketing" to identify outstanding products that offer "Innovative Value" while satisfying the key criterion of being "made in Taiwan". Products that have been selected for the Taiwan Excellence Awards would serve as examples of the domestic industries and be promoted by the government in the international market in an effort to shape the creative image for Taiwanese businesses.

---

---

China International Machine Tool Show (CIMT 2019) April 15 to 20, 2019 Beijing China International Exhibition Center

---

---

معرض Kaohsiung للأتمتة الصناعية 2019 من 10 صباحًا حتى 5 مساءً (آخر يوم حتى 4 مساءً) ، 29 مارس (الجمعة) - 1 أبريل (الإثنين) ، 2019 مركز معارض Kaohsiung (رقم 39 ، طريق Chenggong الثاني ، حي Qianzhen ، مدينة Kaohsiung 806 ، تايوان ، جمهورية الصين)

---

---

INDUSTRIE 2019 ، كورنرستون من أول صناعة عالمية في ليون ، الحدث الصناعي الضخم في فرنسا INDUSTRIE ، سيتم تنظيم معرض معدات وتقنيات الإنتاج الرئيسية كجزء من هذه المجموعة من 5 إلى 8 مارس 2019 في مركز معارض Eurexpo ، ليون بعد نجاح إطلاقها في باريس في مارس 2018 والرضا العام للجميع في الصناعة والسلطات العامة ، تأتي GLOBAL INDUSTRIE الآن إلى ليون. ستكون هذه هي المرة الأولى التي تستضيف فيها المنطقة الصناعية الرائدة في فرنسا حدثًا بهذا الحجم مخصص بالكامل للصناعة.   INDUSTRIE في قلب حدث الصناعة الضخم في فرنسا GLOBAL INDUSTRIE هو نتيجة انطلاق مشترك لأربعة عروض صناعية فرنسية كبرى ورائدة في القطاع والتي اجتمعت معًا لإنشاء الحدث الصناعي الرئيسي الذي دعت إليه الصناعة الفرنسية وسلطاتها العامة لسنوات عديدة. ستعقد INDUSTRIE في ليون في السنوات الفردية وباريس في السنوات الزوجية ، من 5 إلى 8 مارس 2019 في Eurexpo Lyon كجزء من GLOBAL INDUSTRIE ، بالاشتراك مع

---

---

تواريخ: 4-9 مارس 2019 ساعات: 10 صباحًا - 6 مساءً   المنظمون:   مجلس تنمية التجارة الخارجية التايوانية (تايترا)   جمعية تايوان لصناعة الآلات (TAMI)   الأماكن:   القاعة 1: مركز التجارة العالمي تايبيه (TWTC) قاعة المعارض 1   القاعة 2: قاعة معارض TWTC 3   القاعة 3: مركز TAIPEI NANGANG للمعارض ، القاعة 1   القاعة 4: مركز TAIPEI NANGANG للمعارض ، القاعة 2   مساحة العرض:   100،000 متر مربع (الإجمالي)   العارضون (المتوقعون):     عدد العارضين   عدد الأكشاك   2017   1100   5430   2019 (تقديريًا)   يُعلن لاحقًا   6500   عدد الزوار:   55000 (محلي: 47500 ، أجنبي: 7500)   الملف التعريفي:   الآلات:   أدوات آلة قطع المعادن ، آلات تشكيل المعادن ، الصب والتزوير   المعدات المساعدة:   آلات التثقيب بالليزر ، اللحام ، الطحن بالاهتزاز ، معدات المعالجة السطحية ، معالجة الأنبوب والأسلاك ، أجزاء / ملحقات أدوات الآلة ، الأدوات ، وحدات التحكم وأنظمة التحكم ، القياس ، أدوات القياس ، البرمجيات ، هندسة التصميم ، المكونات الهيدروليكية والهوائية

---

---

معرض المكونات الميكانيكية وتكنولوجيا المواد [M-Tech] هو معرض يجمع جميع أنواع الأجزاء الميكانيكية مثل المحامل والمثبتات والينابيع الميكانيكية وتكنولوجيا معالجة المعادن والبلاستيك. تجذب M-Tech عددًا كبيرًا من المهنيين كل عام من أقسام التصميم والتطوير والتصنيع وهندسة الإنتاج والمشتريات ومراقبة الجودة لإجراء مناقشات تجارية حية مع العارضين.   بالفعل للمرة الثالثة والعشرين ، تجري M-Tech في 3 أيام من الأربعاء 06.02.2019 إلى الجمعة ، 08.02.2019 في طوكيو.   الملف التعريفي معرض تكنولوجيا الحركة محامل ، مبدلات / مخفضات ، تروس ، أحزمة ، سلاسل ، مواد تشحيم ، إلخ.   معرض السيارات المحركات ، السائقين ، أجهزة التحكم ، إلخ.     معرض نقل طاقة الضاغط / السوائل ضاغط ، معدات هيدروليكية ، معدات هيدروليكية مائية ، أختام ، إلخ.   معرض مكونات الأنبوب أنابيب ، أنابيب ، وصلات ، صمامات ، إلخ.     معرض الأجزاء الميكانيكية والمنتجات ذات الصلة مفصلات رافعات | دعائم عجلات وأجزاء ميكانيكية ومنتجات ذات صلة   معرض تكنولوجيا السحابات والتثبيت البراغي ، المكسرات ، الغسالات ، المسامير ، إلخ.     معرض النوابض الميكانيكية مجموعة متنوعة من الينابيع ، آلات تشكيل الزنبرك ، تكنولوجيا التشكيل / المعالجة ، اختبار الربيع ، إلخ.   معرض معالجة وتعديل الأسطح الطلاء ، طلاء السطح ، المعالجة السطحية وتقنية التعديل     معرض تكنولوجيا ومواد المعالجة التصنيع / القطع ، الضغط ، التشكيل ، الصب ، الصب بالقالب ، تكنولوجيا التصنيع ، إلخ.   معرض Ultraprecision Processing / Microfabrication قطع دقيق / فائق الدقة معالجة ليزر دقيقة / فائقة الدقة تصنيع آلات جلخ دقيقة / فائقة الدقة | ضغط فائق الدقة التصنيع الدقيق للنماذج الأولية ، إلخ.     معرض تصنيع الأجزاء الكبيرة / السميكة قطع الأجزاء الكبيرة ، معالجة الألواح الكبيرة ، تقنية تزوير الأجزاء الكبيرة ، معالجة الأجزاء السميكة ، الضغط على الأجزاء الكبيرة / السميكة ، معالجة الأجزاء الكبيرة من البلاستيك ، صب الأجزاء الكبيرة ، إلخ.   معرض تكنولوجيا الوزن الخفيف مواد خفيفة الوزن ، معالجة ، مكونات ، إلخ.     معرض Deburring & Surface Finishing تقنيات التفجير | تقنيات / معدات إزالة الحواف وتشطيب الأسطح تشطيب البرميل   معرض تنظيف الأجزاء الميكانيكية الغسالات ، المنظفات ، المجففات ، خدمات الاستعانة بمصادر خارجية للتنظيف ، إلخ. معرض ماكينات ومعدات التجهيز الأدوات اليدوية ، أدوات الماس / CBN ، المغازل ، أدوات آلة المطاحن النهائية ، آلات التشكيل بالحقن ، آلات معالجة المعادن / الراتنج ، إلخ.   معرض الاختبار / القياس / الاستشعار أداة / معدات الاختبار ، أداة / معدات القياس ، أجهزة الاستشعار ، الكاميرات ، التشفير ، إلخ.   M-Tech Tokyo هو أكبر معرض تجاري في اليابان للمكونات الميكانيكية وتكنولوجيا المواد. إنه يجذب الشركات من جميع أنحاء العالم ومجموعة واسعة من الصناعات التي دخلت السوق اليابانية بالفعل أو ترغب في القيام بذلك. ومن بين الزوار خبراء تقنيون من أقسام مثل هندسة التصميم وهندسة الإنتاج ومراقبة الجودة والشراء والبحث وغيرها. يقام M-Tech Tokyo بالاشتراك مع معرض هندسة التصميم وحلول التصنيع.

---

---

معرض المكونات الميكانيكية وتكنولوجيا المواد [M-Tech] هو معرض يجمع جميع أنواع الأجزاء الميكانيكية مثل المحامل والمثبتات والينابيع الميكانيكية وتكنولوجيا معالجة المعادن والبلاستيك. تجذب M-Tech عددًا كبيرًا من المهنيين كل عام من أقسام التصميم والتطوير والتصنيع وهندسة الإنتاج والمشتريات ومراقبة الجودة لإجراء مناقشات تجارية حية مع العارضين.   بالفعل للمرة الثالثة والعشرين ، تجري M-Tech في 3 أيام من الأربعاء 06.02.2019 إلى الجمعة ، 08.02.2019 في طوكيو.   الملف التعريفي معرض تكنولوجيا الحركة محامل ، مبدلات / مخفضات ، تروس ، أحزمة ، سلاسل ، مواد تشحيم ، إلخ.   معرض السيارات المحركات ، السائقين ، أجهزة التحكم ، إلخ.     معرض نقل طاقة الضاغط / السوائل ضاغط ، معدات هيدروليكية ، معدات هيدروليكية مائية ، أختام ، إلخ.   معرض مكونات الأنبوب أنابيب ، أنابيب ، وصلات ، صمامات ، إلخ.     معرض الأجزاء الميكانيكية والمنتجات ذات الصلة مفصلات رافعات | دعائم عجلات وأجزاء ميكانيكية ومنتجات ذات صلة   معرض تكنولوجيا السحابات والتثبيت البراغي ، المكسرات ، الغسالات ، المسامير ، إلخ.     معرض النوابض الميكانيكية مجموعة متنوعة من الينابيع ، آلات تشكيل الزنبرك ، تكنولوجيا التشكيل / المعالجة ، اختبار الربيع ، إلخ.   معرض معالجة وتعديل الأسطح الطلاء ، طلاء السطح ، المعالجة السطحية وتقنية التعديل     معرض تكنولوجيا ومواد المعالجة التصنيع / القطع ، الضغط ، التشكيل ، الصب ، الصب بالقالب ، تكنولوجيا التصنيع ، إلخ.   معرض Ultraprecision Processing / Microfabrication قطع دقيق / فائق الدقة معالجة ليزر دقيقة / فائقة الدقة تصنيع آلات جلخ دقيقة / فائقة الدقة | ضغط فائق الدقة التصنيع الدقيق للنماذج الأولية ، إلخ.     معرض تصنيع الأجزاء الكبيرة / السميكة قطع الأجزاء الكبيرة ، معالجة الألواح الكبيرة ، تقنية تزوير الأجزاء الكبيرة ، معالجة الأجزاء السميكة ، الضغط على الأجزاء الكبيرة / السميكة ، معالجة الأجزاء الكبيرة من البلاستيك ، صب الأجزاء الكبيرة ، إلخ.   معرض تكنولوجيا الوزن الخفيف مواد خفيفة الوزن ، معالجة ، مكونات ، إلخ.     معرض Deburring & Surface Finishing تقنيات التفجير | تقنيات / معدات إزالة الحواف وتشطيب الأسطح تشطيب البرميل   معرض تنظيف الأجزاء الميكانيكية الغسالات ، المنظفات ، المجففات ، خدمات الاستعانة بمصادر خارجية للتنظيف ، إلخ. معرض ماكينات ومعدات التجهيز الأدوات اليدوية ، أدوات الماس / CBN ، المغازل ، أدوات آلة المطاحن النهائية ، آلات التشكيل بالحقن ، آلات معالجة المعادن / الراتنج ، إلخ.   معرض الاختبار / القياس / الاستشعار أداة / معدات الاختبار ، أداة / معدات القياس ، أجهزة الاستشعار ، الكاميرات ، التشفير ، إلخ.   M-Tech Tokyo هو أكبر معرض تجاري في اليابان للمكونات الميكانيكية وتكنولوجيا المواد. إنه يجذب الشركات من جميع أنحاء العالم ومجموعة واسعة من الصناعات التي دخلت السوق اليابانية بالفعل أو ترغب في القيام بذلك. ومن بين الزوار خبراء تقنيون من أقسام مثل هندسة التصميم وهندسة الإنتاج ومراقبة الجودة والشراء والبحث وغيرها. يقام M-Tech Tokyo بالاشتراك مع معرض هندسة التصميم وحلول التصنيع.

---

---

ليس فقط تقديم منتجات عالية الجودة وخدمات ممتازة لتلبية العملاء الاحتياجات الأساسية ولكن في الوقت نفسه ، نقدم العديد من المقترحات والحلول التي تستجيب بدقة لمتطلبات التنويع والمستوى العالي الحالية في السوق الفردية ، من خلال ممارسة المفهوم أعلاه "أن نكون موضع تقدير ونجلب الكثير من البهجة للعملاء" وأنفسنا أيضًا ، "يمكن أن تقدر وتستمتع".   لتسريع ممارسة الأعمال لدينا ، نحن نبذل أنفسنا من أجل رعاية موظفينا ذوي الطبيعة البشرية الجيدة ولعب القوائم كمواطنين أعمال صالحين للمساهمة في مجتمعنا.   الآن في القرن الحادي والعشرين ، تواجه الصناعات اليابانية تغيرًا جذريًا. تواصل شركة Kiichi Tools ممارسة أنشطتنا التجارية لتحقيق قفزة أعلى كشركة أعمال حقيقية تتمتع بروح التحدي والإيجابية المتمثلة في "المضي قدمًا بخطوة إلى الأمام" التي نجحت منذ بداية مؤسستنا. أثناء رعاية الموظفين الجيدين ومشاركة نفس القيمة مع العملاء كشريك لا غنى عنه ، سنواصل بذل قصارى جهدنا ونتطلع إلى دعمكم المستمر.

---
---
Best Sale
Sloky Introduction
Sloky, the only and smallest "torque adapter" with multi-national pentents is Taiwan supplier and manufacturer in Cutting Tools, Shooting/Hunting, Circuit board, Tire pressure detector, DIY Market, Drum, Lens, 3C devices and Golf Club, Customization of torque, torque wrench, hexagon, torx, torx plus, torque set, screwdriver, driver set, customize torque, torque customization, torque wrench, torque bits, torque control, wiha, wera, PB, mountz, Preset torque, milling, turning, lathing, machining, CNC, High precision, cutting tool, milling parts, lathing parts, fastener, customized, special screw. Sloky has been offering our customers high quality Torque Screwdriver, Torque Control, Torque Adapter, Torque Sleeve, Torque Set, Torque Management, Lathing Tools, Hinges, Turning Tools Control, Milling Tools Control, Screwdriver, Fixing Tool since 1979. With both advanced technology and 37 years experience, Sloky always make sure to meet each customer's demand.
View our quality products
Torque Screwdriver
,
Torque Screwdriver Set
,
Torque Handle
,
Torque Screw Driver For Cutting Tool
,
Torque Control
,
Universal Handle Torque Screwdriver
,
Handle Torque Screwdriver
,
T-Flying Handle Torque Screwdriver
,
Smart
,
Expert Kit
,
Smart Kit
,
Dual Kit
,
Togo Kit
,
Adapter
,
Handle
,
TORX®
,
TX Bits
,
TORX PLUS®
,
IP Bits
and feel free to
Contact Us
.
---
Hot Products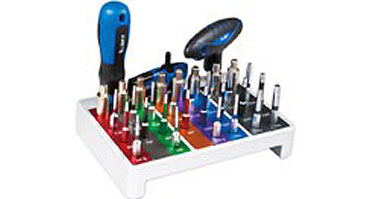 Multi Torque Kit
Best sellers of Sloky Torque screwdriver with choice of 3 handles, 6s preset Torque Adapters...
اقرأ أكثر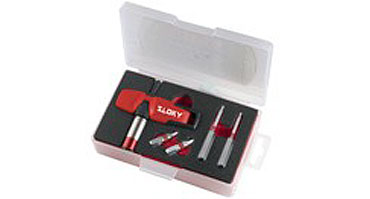 Single Torque Set
Single set of Sloky Preset Torque Screwdriver with torque adapter and magnetic design...
اقرأ أكثر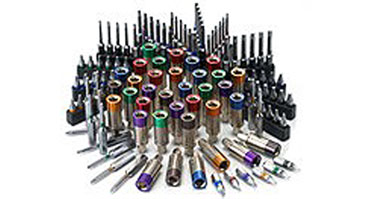 Adapters and Bits
5,000 times life cycle, tolerance +/- 10%, easily customize 0.1~18Nm with low QTY required
اقرأ أكثر